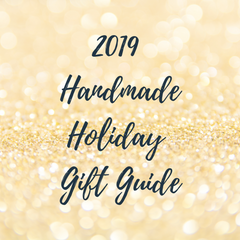 I have some exciting news to share: I am launching a course in January 2020! This has been a project in the making for quite some time now, but this fall I had an opportunity to really sit down and flesh out the details of what I am going to teach. Bel monili has been in business since 2010, and I feel that now is the right time for me to put together a comprehensive course to help other handmade sellers grow their businesses by bringing their craft show customers to shop online, nurture relationships to create loyal raving fans, and organize themselves to be able to really enjoy their creative businesses. If you have a handmade business and you want to be on the waitlist for the FREE launch webinars, click here to sign up. 
As a part of my pre-launch research, I opened up a free challenge group on Facebook to see where I could be most helpful to my fellow artists. This group, the Holiday 2019 Business Prep Challenge Group, had a wonderful month of challenges where we had bite-sized daily tasks that helped everyone to prepare our social media profiles, clean up our websites, and start to grow our email lists so that we can nurture our customers properly. 
After all of our hard work, I wanted to create a gift guide showing off some of the incredible artists who participated in the challenge. As we edge ever-closer to the holiday season, here are a few things that I think should be on your shopping list:
City Life Adventures is owned by photographer Carla Cardello who focuses on the streets and bridges of Pittsburgh. Take a piece of Pittsburgh home with you, whether it's wall art for your living room, drink coasters for your coffee table, or magnets for your kitchen.
Decorate your coffee table in style while also protecting it with Pittsburgh drink coasters! This listing is for a set of 4 coasters where you pick which 4 designs you want from a predetermined list.
Comfort Canvas creates a wide variety of customaizable gifts that can check off all of the boxes on your list.
These coasters can be personalized for just about anything! Ceramic coasters of your favorite sports teams, favorite shows, and even family pictures. 
Fantasy Geek Soaps creates unique and fun artisan soap and bath products. 
This handmade artisan Pumpkin Cheesecake Soap is perfect to celebrate the holidays for that special person who loves everything Pumpkin Spice! Made with goats milk, it lathers beautiful and smells so good you will want to eat it (but please don't!)
In between custom framing orders, Fine Art Findings makes stuff out of the extra moulding. Their upcycled boxes, mirrors are amazing and make a super gift. These are one of a kind works of art for home decor and made from recycled picture frames and whatever else they find. 
Joe and Jodi from Haldeman Designs likes to tinker in the basement in their free time, making lots of different things... mostly when they can't find what they want on the market already. They like to help people find what they are looking for, too. Joe and Jodi enjoy being able to make something for someone that is custom to their needs. Crafted at their home based shop In rural PA from steel, palm sanded and powder coated a matte gold finish. This piece is suitable for indoor our outdoor display!
Natalie at Heirlooms Made Modern is a girl after my own heart with her unique creations to repurpose vintage jewelry. She uses scrap leather to create these earrings and tool openings to add vintage clip on earrings. 

If you aren't spending the weekend doing at least a little laundry what else are you doing? This Freakin' Weekend Tee is one of Inclined Designs' signature punny, trendy and honest tees.