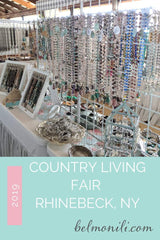 I was thrilled to return to Rhinebeck, NY this year for my 6th visit back to the Country Living Fair. Each year, I excitedly look forward to reconnecting with some of my favorite people for a weekend of fun, including good food, good shopping, and all around good times!
This year, Jeanne from juNXtaposition and I packed up her fancy white van and headed on up to the Hudson Valley for what is undeniably our favorite Country Living Fair. We head out the day after Memorial day, taking a day to drive up and then two days to set up our booths.
The Country Living Fair is the really a milestone time of year for bel monili: this is the time when I really work hard to launch new designs, restock perennial favorites, and focus on connecting with my amazing customers to ensure that they are always happy with their bel monili goodies.
This year, I decided it was time to give my booth design a refresh with some custom table linens (I chose white canvas tops with a gray and white French ticking stripe skirt) and I was thrilled with how they turned out. I also had a buffalo check linen made for my checkout table, because...well, who can resist a classic buffalo check at the Country Living Fair?!
The funny thing about shows is that it takes SO LONG to set up, yet at 5:00pm on the last day of the show, the place CLEARS OUT! Here is a look at a few different angles of my booth:
I had the great opportunity to have a video of my booth shot at the Fair this year by the incomparable Ethan Bennett of Ethan Bennett Films. If you want to take a peek at what it was like to shop my booth at the fair, check out the video here:
I also launched my exciting new project, the #realfaces campaign, here at the Country Living Fair. #realfaces was born in an early-morning "aha" moment, when I thought, wouldn't it be really cool to have some kind of video or photo gallery of all of the amazing women who purchase and wear my jewelry? I mean, I LOVE the styled and professional photos I've had taken, but nothing quite compares to the beauty of the REAL faces of the women (and a few men!) who visit me at shows. I invited Jeanne from juNxtaposition to join me in this project, and together we worked to kick off this project to honor the REAL people who support us. Take a look at the videos here:
Before the show started, Jeanne and I were able to take a quick spin around the fairgrounds to see what some of our fellow vendors had. In true Country Living Fair style, they did not disappoint! At the Fair, you will find an amazing selection of handmade goods, vintage and antique finds, and truly unique market items that you will find nearly impossible to resist. Here is a peek at some of my favorite things:
I loved being at the Country Living Fair in Rhinebeck this year, and I am already counting down the days until the 2020 Country Living Fair! Thank you to everyone who attended the Fair, visited my booth, and joined in our wonderful community. 
If you haven't already, I invite you to join the bel monili VIP email list to get all of the latest goodies straight to your inbox. I am frequently adding to my list of in person events, launching new designs, and offering deals to my VIPs!