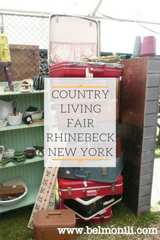 Aah, the Country Living Fairs. They are undeniably the BEST antique/junk/artisan shows, offering unique, one of a kind items from near and far. Here's a peek of what I saw at the inagural Country Living Fair in Rhinebeck, NY:
Check out this line of people waiting to get into the fair!
Blogging friends! Left to right: Jeanne (juNxtaposition), Breida (breida with a b), Lucy (bel monili), Kelly (Eclectically Vintage)
bel monili and juNxtaposition with the Beekman Boys! Left to right: Brent, Lucy, Jeanne, and Josh
The adorable flags adorning the walkways were made by our friends at Modern June
Marlene at La Bonne Vie always has the best display!