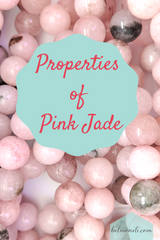 This is the second post in my series about what stones I will be working with this season. I decided to take a deeper look at the properties and "meanings" of these stones and share my findings with you.
Pink jade, or jadeite (silicate of sodium and aluminium), was reported to be imported to China from Burma in the 1800s.
Pink jade is thought to be a healing stone that can eliminate toxins from the body, and it has been said that simply holding this stone has an amazing calming effect on the nervous system. 
Pink jade also is said to have powerful effects on the heart chakra and love. It encourages the strengthening and growth of relationships and romance. 
This stone is also used to purify and cleanse the body, specifically helping to detoxify the liver and adrenal glands, relaxing your body's muscles, and speeding the healing of injuries. 
When worn as jewelry, pink jade can help to keep a healthy, youthful glow to the skin. It is especially beneficial to women who are in or near menopause. 
You will be seeing this amazing stone in our beaded bauble necklaces as well as in a special limited-release series of beaded earrings (coming May 2019).
Make sure you are on our
VIP email list
to get this series along with our news, show schedule, and other members-only perks straight to your inbox!