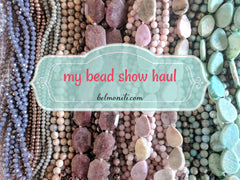 As you may know by now, I create my jewelry using a combination of upcycled vintage costume jewelry and new semi-precious stone and glass beads. While you may be familiar with the bead strings at craft and hobby stores, what you may not know is that there are actual bead shows where vendors come with tables and tables of showstopping baubles. 
It takes a LOT of self-restraint for me...
...oh, who am I kidding? It's a free-for-all for me. 
This is just a tiny bit of what I brought home.
These particular beads are earmarked for
Here is a peek at what I will be designing with this season:
Keep your eyes peeled: In the coming days I will be doing separate posts for each of these beautiful stones outlining their qualities, where they come from, and a peek at what they will become!